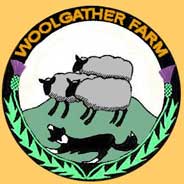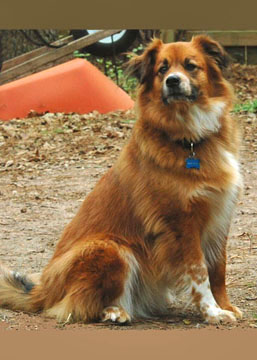 b. November 21, 2003
---
RENY'S STORY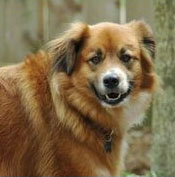 In December 2016, shortly after her 14th birthday, our Sage succumbed to cancer. Then in March 2017, three months later, our Kate died of cancer as well, shortly after her 15th birthday. It was devistating, not just to us, but to Jack, who was confused and became somewhat clingy. He was very close to Kate. So, I decided to begin searching for another girl dog immediatley. Almost instantly I found two. One, Reny, was on Petfinder, listed as being in Manchester, New Hampshire. The other, Ana, was at Glen Highland Farm in New York State. I applied for both. I heard back immediately from Karoline Carlson, who runs Freedom Street Rescue, not in Manchester, NH, but in Houston, Texas! Freedom Street is a small rescue run by Karoline and another woman, with foster homes scattered all over the Houston area and the Northeast. They rescue dogs from a high-volume, kill shelter, and ship most of them to the Northeast. If you know me, you will know that I have always disliked this practice, believing that there were many dogs in the Northeast that needed rescuing. However, I broke that notion when I adopted Jack.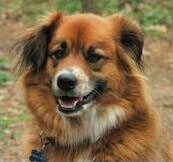 Karoline telephoned me, and, speaking with her I decided I liked her, and would go through with the adoption if I was approved. Of course, I was approved because of my previous rescue experiance. Meanwhile, I spoke to someone at Glen Highland Farm and learned that Ana was an escape artist and not suitable for us at this time.
My preference for transport for Reny was Pilots N Paws, an organization that has volunteer pilots of small planes who fly rescue or needy pets at no charge, and who brought Jack up from North Carolina. I messaged (there's a noun I never thought I would hear myself verbing) David Harlow, one of the pilots who transported Jack, and asked him if it were possible for him to partake in the transport of Reny. He graaciously agreed, and said he could do the first leg. But he also said "Let me set the stage a bit. Getting a dog from Texas to New Hampshire using PNP is an enormous long shot because of the very long distance and the limitations of small planes. A typical 'long' PNP mission is ~700 miles and takes three pilots. This one is 1900 miles. Most pilots will restrict their flight distance to between 150-250 miles from their home, making it very difficult to find and coordinate the 7 to 10 of them needed to connect a 1900 mile mission like this one. There aren't a lot of pilot volunteers in the southern states, so I'm hoping my offer will help to bridge that gap. At an average flying speed of ~120 mph, the trip will take at least two days and likely will require overnight fostering along the way. There needs to be good flying weather forecast for the entire route. Pilots will cancel at the last minute if the weather looks at all iffy, and one cancellation can halt the entire effort because most pilots aren't able to foster. "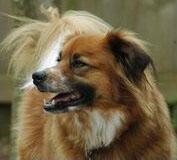 He and Karoline both posted on the PNP bulletin board, and Karoline also contacted several pilots she knew, but unfortunately only the first (David) and last legs were filled, and the entire middle went unfulfilled. At that point Kalen Gralka, who was fostering Reny, stepped in and arranged to have Reny fly Houston to Boston direct on United Airlines, which has a "Pet Safe Program" which they had used before.
Reny left Houston on Saturday (April 8, 2017) morning and landed around 4pm. She was brought directly to us from the airport by Nick Murphy, who had adopted a dog from Kalen and knew the routine for picking up a dog at the airport, something that, despite my experience in rescue, I had never done, at least not from a big internationsl airport like Logan. Therefore, I was terribly grateful to Nick.
Reny has lived a somewhat checkered life. Karoline says she probably was picked up from the streets by Animal Control and dumped at the shelter (BARC) in Houston, which is where BARC gets most of their dogs. Her name was Pulka at the shelter (ugh) and Karoline's 8 year old daughter named her Reny, after a character in a book she was reading. Karoline placed her with a family in Colorado, who named her Sadie (again, ugh, at least for her). That didn't work out, so back she came to Karolinem, who changed her name back to Reny (which I kept because I liked it), and she was fostered by Kalen. So she was quite used to flying by the time she came to me.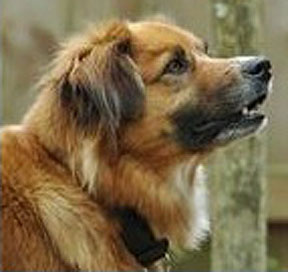 Despite all that, she is a lovely dog, quite stunning actually, with a charming personality and good temperament. You cannot tell in the photos, but she has the most beautiful amber eyes. Jack has not yet (I am writing this on day 7) warmed up to her, and occasionally growls, but I have hopes that they will eventually come together. If they meet face to face, she licks him on the nose. She has not responded to his growls, but turns away. Outside, on walks, they can be side by side, or exploring the smells together. I am hoping that she will win him over. She is about 6 and he is 13 and a half.
About Reny's "breed": The shelter (BARC) called her a "Chow Chow mix". I expect that is because she holds her tail curled over her back sometimes. There is no way that she could be a Chow. Chows have a distinctive blue tongue that is from a dominant gene, so mixed breeds with Chow blood also have the blue tongue. Reny does not. There are other breeds that hold their tails curled, for example, the spitz breeds. The Chow Chow is a spitz breed, but it has been bred to have a rather pushed in face. The most of the others have "normal" muzzles, but they all have erect ears, and Reny does not. Karoline called her an Australian Shepherd mix. It's possible, since many Aussies do have tails. Her head is similar to an Aussie head and ear carriage, but they do not come in sable, so if a parent was an Aussie, something else is there. It could be Border Collie. Ah, but she has a mask (black on her face and muzzle), which is rare in Border Collies and probably Aussies as well. So what are we left with? The English Shepherd . They frequently come in the sable color. They often have masks. They usually have down or semi-erect ears.
What is most likely is that Reny is probably a mix of two or more breeds, and I mean to get to the bottom of it. So I have decided to have both Reny and Jack DNA-tested. I know as little about Jack. Although I was told his mother was a Border Collie, I have little faith in shelter guesses about breeds. So hopefully, in the near future, I will have more precise information about both my dogs. It won't be exact, because most labs that test for breed DNA do not have the English Shepherd on file. But it's a mystery I hope to resolve, to some extent at least.
---


RETURN TO THE WOOLGATHER FARM HOME PAGE
---
THE OTHER WEB PAGES WE MAINTAIN


---
These web pages are copyright ©2017 and maintained by webmeistress Carole Presberg
with technical help from webwizard David Presberg
ALL RIGHTS RESERVED
If you are interested in using ANY material on this website, you MUST first ask for permission.
You may email us at carole@woolgather.org.
---
Last modified: April 15, 2017 carole@woolgather.org