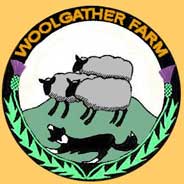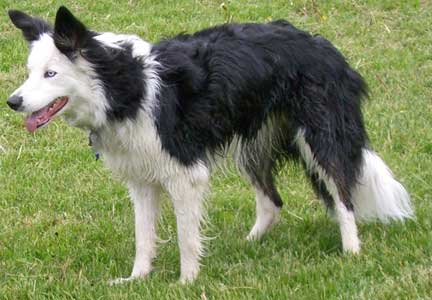 CGC
2002-2016
---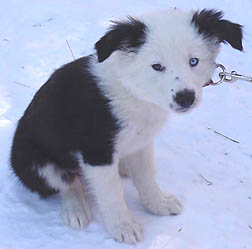 We acquired Sage in the early spring of 2003. Sage was bred on a farm in Maine on the Canadian border. She came from working lines, though she was not registered. A single man bought her at 10 weeks old, and after having her for just a week, decided he couldn't take the energy level of a Border Collie puppy, and called Nathalie Vadim, a Border Collie rescue colleague in Maine. Nathalie took the pup, but called for help in fostering her. I took one look at that face, and I fell in love. The next day we met Nat in Portsmouth, and took Sage home.

Right, Sage with Flash in the house. Flash was always making sure the puppy didn't do anything wrong. She would often go into his crate when he was inside as well, and wrestle with him. She had him wrapped around her little toe.
Sage has more personality than any dog I have ever met. She is mischievous, and yet very bidable. If we hadn't retired from sheep farming by the time we got her, she would have made an excellent working dog. She has loads of "eye" and now uses it to herd me, now that Flash, her previous herding subject, is gone. Why she chose Flash as the object of her "eye" is unclear, but every day when we went out, Sage walked backwards in front of Flash, head down, fixated on him. When he got close to her, she whirled around two or three times in front of him before moving on backwards. She has the quirkiness of the Border Collie in large amounts.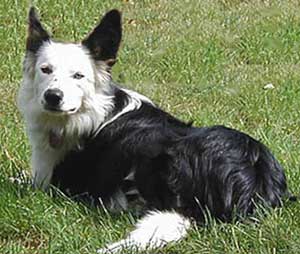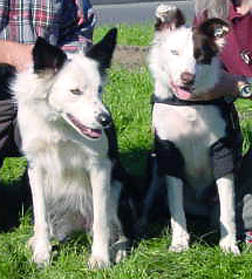 In these photos, above, Sage is between 1 and 3 years old.
In the right photo she is with her full sister Folly (owned by Pat Kuchma of Connecticut), a year younger than Sage.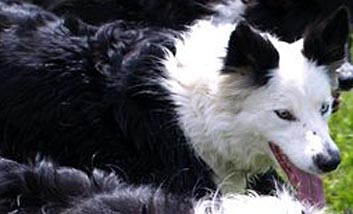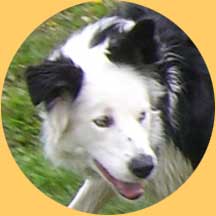 The photos above and the ones below were taken of Sage at 5 1/2 years old at the 2008 NEBCR Reunion.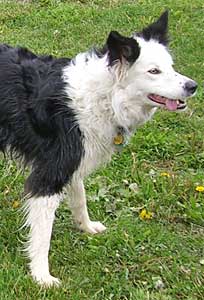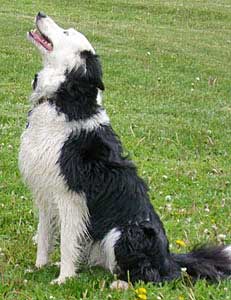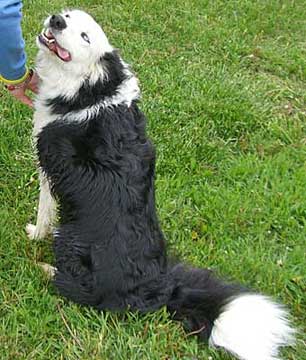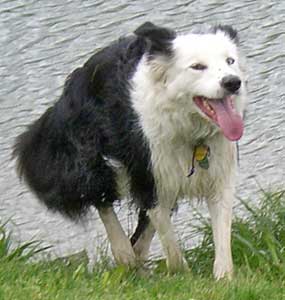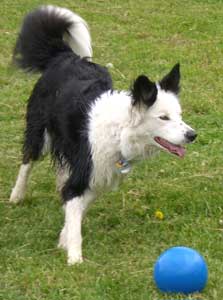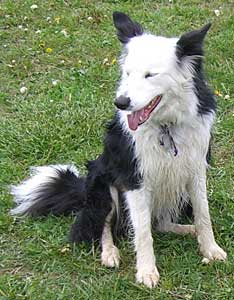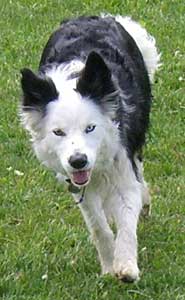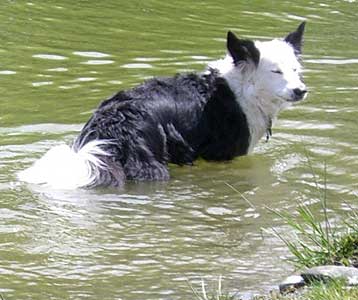 ---

RETURN TO THE WOOLGATHER FARM HOME PAGE
---
THE OTHER WEB PAGES WE MAINTAIN


---
These web pages are copyright ©2013 and maintained by webmeistress Carole Presberg
with technical help from webwizard David Presberg
ALL RIGHTS RESERVED
If you are interested in using ANY material on this website, you MUST first ask for permission.
You may email us at carole@woolgather.org.
---
Last modified: December 20, 2016 carole@woolgather.org