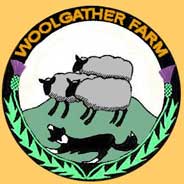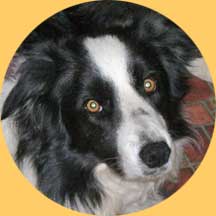 b. January 23, 2002
---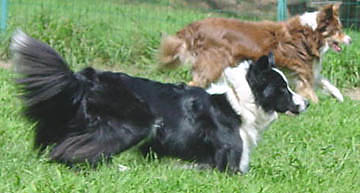 KATE'S STORY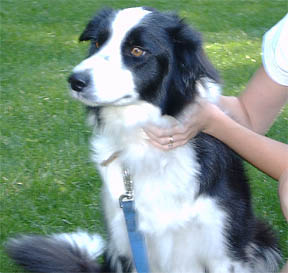 Kate came into New England Border Collie Rescue on Saturday, July 24, 2004. We had been in the middle of a Board Meeting when her owners brought her by. It seemed that she had originally belonged to an American soldier and his English wife living in the Netherlands. They bought Kate from a breeder in Belgium, and then brought her with them when they returned to the United States. Here, living with the husband's brother and his family in Massachusetts, they separated and divorced. The wife moved back to England, and the husband was posted to Texas in preparation for deployment in Iraq. He left Kate with his brother and sister-in-law, and they relinquished her to rescue.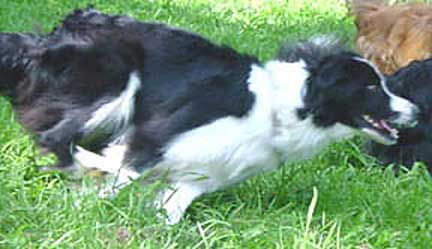 I took one look at her and said "Who does she remind you of?" The two other Board Members, Nat and Jalyn, both said without hesitation, "Clyde!". That started me off on a quest to discover if somehow Clyde and Kate were related. Kate's head shape and ear carriage were very much like Clyde's, but, as far as I knew, Kate came from Belgium show lines, and Clyde came from English show lines; so the first thing I did was write to Clyde's breeder, Karen Dalglish, (who I had been in touch with almost from the moment I adopted him 5 years before) and asked if she had sold a puppy to anyone in Belgium. She gave me the name of a breeder, Lut Vanden Borre, who she had sold a puppy to in 1990. This was Corinlea Jewel, whose sire was the same as Clyde's, but whose dam was different. I found Lut's email address on the internet, and I contacted her. That turned out to be a dead end, because Lut had never bred Jewel, and had given her away after owning her for 2 1/2 years; and Lut herself had stopped breeding dogs 2 1/2 years ago due to a divorce.
I was advised to go on one of the yahoo lists for show Border Collies. I found one, and joined, but though a couple of kind, friendly people offered advice and help, it got me no further with my quest, at least at that point.
Then, out of the blue, I received an email from a woman in Belgium, Christel van den Steen. She was sending me photos of her own dogs to include in the Border Collie Museum website. While I had her attention, I thought I would tell her of my quest and see if she might be able to help. Christel was amazing! She jumped into it with a vengeance, and tracked down all the information for me. She had me send her copies of the paperwork I had for Kate (all in either Dutch or Flemish) and she found the breeder of Kate's sire, Bratly--in the Netherlands! Interestingly enough, I had not thought to ask Karen Dalglish if she sold a pup to someone in the Netherlands, but it turned out that Hans and Joke Smit, of From Borders Home kennel, owned Corinlea Rory, Bratley's sire, whose sire was Sh.Ch. Viber Traveling Matt From Corinlea (who also happened to be Clyde's sire) and whose granddam was Corinlea Rona (who happened to be Clyde's granddam. Thus, it turned out that Kate was related to Clyde after all! He would have been her great half-uncle (if there is such a thing).
From Bratly's breeder, Hans Smit, I also learned who Kate's breeder was: Anje Dassen, previously from Belgium but now living in the Netherlands. I haven't yet gotten her contact information, but hope to do that soon.
It also turns out that one of the woman from the Show Border Collies list who had offered to help, Ewa Lukasik, who lives in Poland, lived in Belgium for a while and has three dogs that are also closely related to Kate also through Corinlea Rory. So Kate has gone from a poor little orphan, dumped into rescue by her owners, to a dog rich in relatives in Europe and Britain, and I hear the USA, too. I am now waiting to possibly hear from her dam's side of the family and see where that takes me as well. There are so many coincidences in this story, that I can hardly credit them being coincidences at all. I feel that Kate came to me for a reason, and I would be remiss if I didn't adopt her. So on August 7, 2004, two weeks after she came to me, I adopted beautiful Kate.
KATE'S GREAT-GRANDSIRE AND GREAT-GREAT-GRANDDAM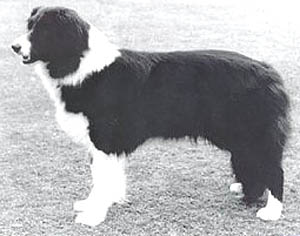 Kate's great-grandsire and great-great-granddam were Clyde's sire and dam.
They were UK Show Champions, Sh. Ch. Viber Travelling Matt From Corinlea ("Trav", left), and Sh. Ch. Corinlea Rona (right),
owned by Karen Dalglish, of the UK.
KATE'S GRANDSIRE AND GRANDDAM ON HER SIRE'S SIDE
Owned by Joke and Hans Smit of From Borders Home Border Collie Kennel in Maasbracht, the Netherlands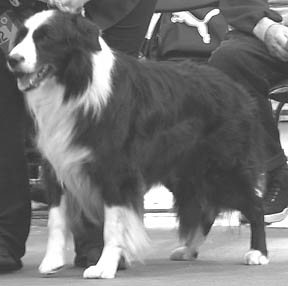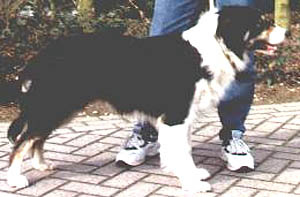 They are Sh. Ch. Corinlea Rory (l.) and Borderlands Time Winner ("Djessie").
KATE'S SIRE, BRATLY
Bred by Joke and Hans Smit
Owned by Eddy Geelissen of Natterveld, Belgium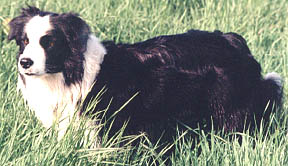 SOME OF KATE'S OTHER RELATIVES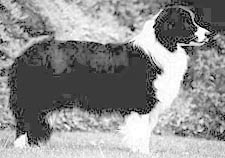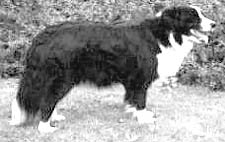 Half-aunts Highland Rose of Emma's Pride ("Rose", l.) and Rosehurst Kiri (half-sister to Clyde (same father)).
owned by Joke and Hans Smit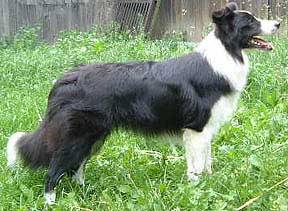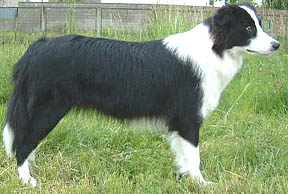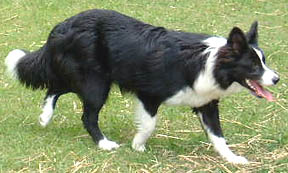 Cousins Never Never Land Agent Double O Seven ("Seven"),
From Borders Home Unicorn Iris ("Iris"),
and Never Never Land Alice in Wonderland ("Alice"),
owned by Ewa Lukasik of Never Never Land Border Collie Kennel in Poland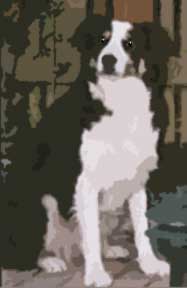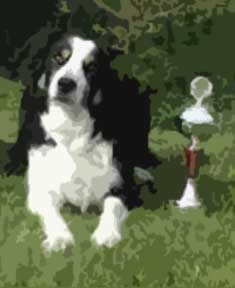 Extra! On June 18, 2011 I finally located Kate's breeder, Anja Dassen, who has a kennel in the Netherlands, and found out that Kate's dam, Shelly (left and right) is still alive. She is 14 years old and tricolored! That was a surprise because Kate is so black-and-white and classic-looking.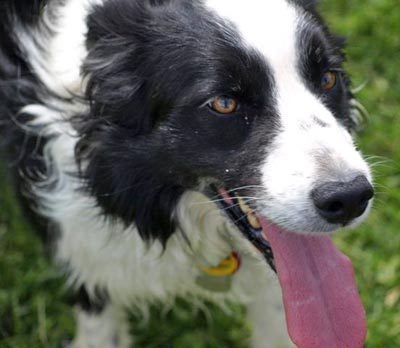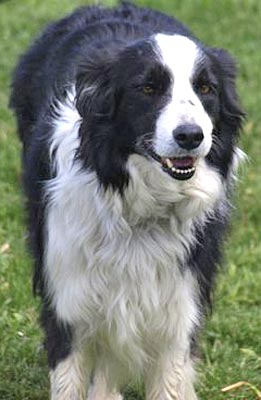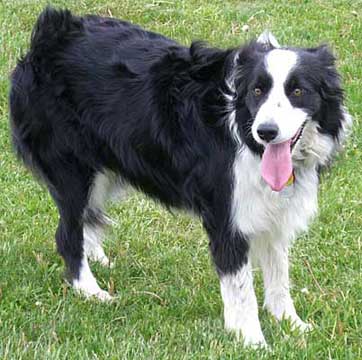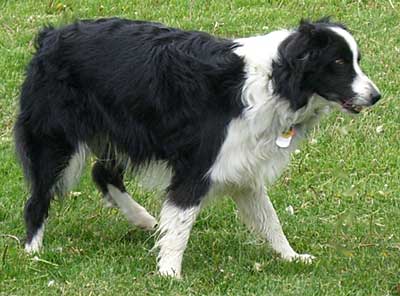 The above five photos of Kate were taken at the 2008 NEBCR Reunion. Kate is 6 1/2 years old in them.
---

RETURN TO THE WOOLGATHER FARM HOME PAGE
---
THE OTHER WEB PAGES WE MAINTAIN


---
These web pages are copyright ©2013 and maintained by webmeistress Carole Presberg
with technical help from webwizard David Presberg
ALL RIGHTS RESERVED
If you are interested in using ANY material on this website, you MUST first ask for permission.
You may email us at carole@woolgather.org.
---
Last modified: July 9, 2013 carole@woolgather.org