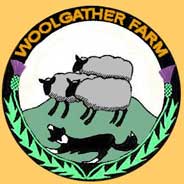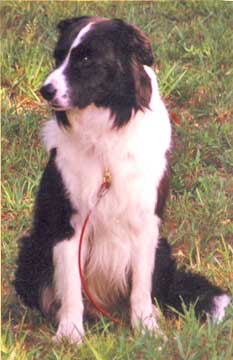 CORINLEA BLACK SUEDE
KC P1353801P01
1989 - 2004


---
Clyde was the first rescue dog that we kept. He was imported as a puppy from England and came from show lines, though he was never himself shown. Clyde was bred by Mrs. Karen Dalglish (formerly Holliday), currently of Scotland (formerly of Sheffield, England), of Corinlea Border Collies. His UK Kennel Club registered name was Corinlea Black Suede. There were four pups in his litter, two dogs and two bitches. Al Goff of White Plains, New York, owned Clyde until his death in 1999, at which time Clyde was relinquished to rescue by Mr. Goff's family, and we adopted him.
CLYDE'S SIRE AND DAM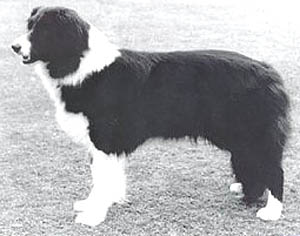 Clyde's sire and dam were UK Show Champions,
Sh. Ch. Viber Travelling Matt From Corinlea ("Trav", left), and Sh. Ch. Corinlea Rona (right).
CLYDE'S LITTERMATES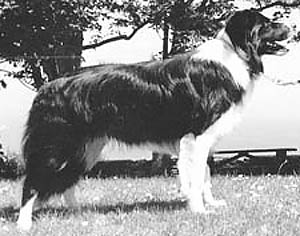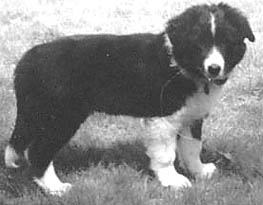 Above, Corinlea Black Serge ("Joker"), Clyde's brother,
as an adult (left) and as a 12 week old puppy (right).
Joker (or "Jo" as he was known) was owned by Maggie Collennette in Guernsey and shown well in conformation.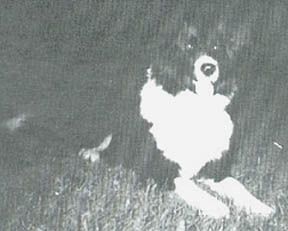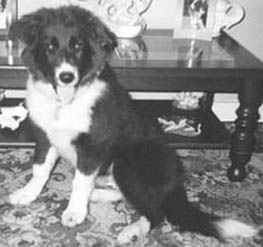 Above, Corinlea Black Satin ("Wisp"), Clyde's sister, as an adult (left) and as a 4-5 month old pup (right).
Wisp was owned by Elsie Thompson, and shown in conformation, obedience, and agility.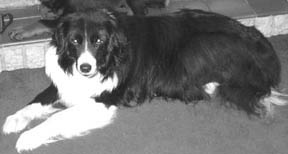 Above, Clyde's sister, Corinlea Black Silk ("Shanti") owned by Di Venn Mirage Border Collies.
Notice how closely all the littermates resemble one another and their dam,
or as Karen, their breeder says, "the whole litter looked alike,
heavy coated and very chunky, well off for bone, but all were quite dark, hence the 'black' litter".
CLYDE'S DAUGHTERS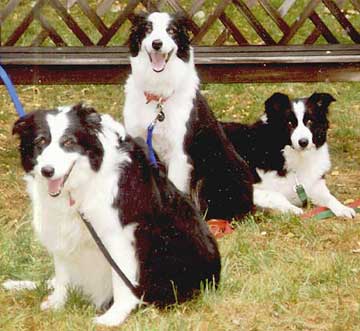 Clyde was bred once to Altricia Bonnie,
imported from England as a puppy at the same time as Clyde,
and she had a litter of 7 puppies. The three above were Clyde's daughters,
(l. to r.) Shannon, Erin, and Tara. All three girls are sadly deceased.
---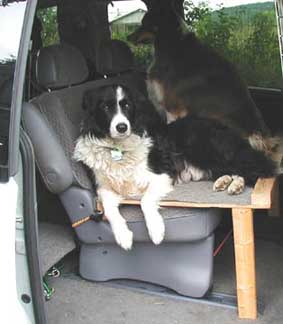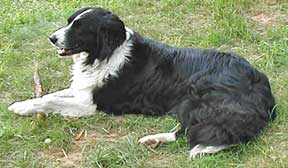 Right, Clyde at 12 years old, in August 2001, in his favorite position in the car (that's Flash behind him).

In July 1999, when Clyde was 10-years-old, his owner died, leaving Clyde and three of Clyde's 9-year-old daughters, Erin, Shannon and Tara. All four dogs came into Border Collie rescue. Erin and Shannon were placed, and Tara eventually went back to the original owner's son. We adopted Clyde because senior males are difficult to place. Despite his having been bred for show, Clyde retained the herding instinct of his breed, and his greatest pleasure was sitting by the fence and watching the sheep--though riding in the car was a close second. He turned out to be a lovely dog and we never regretted taking him for even a moment, even though he sometimes was a grumpy old man. In June of 2003, Clyde was diagnosed as being in chronic renal failure. We knew from experience that a dog could live for years in that condition with the right diet and care, and we hoped that Clyde would at least see his 15th birthday on February 23, 2004, but that was not to be. Clyde grew thinner and thinner, and then started losing muscle mass until he had difficulty lowering himself to the floor, getting up from lying down, and standing. On Monday, January 5th he collapsed and we knew it was time. He was put to sleep on Tuesday, January 6, 2004.
This is Clyde's story:
I have no way to check the facts; I don't know what is fact and what is fiction.
But it is how I understand it.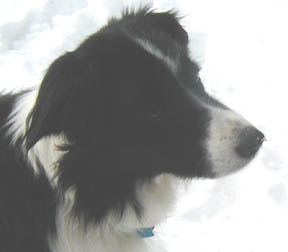 THE BORDER COLLIE MYSTIQUE

by Carole L. Presberg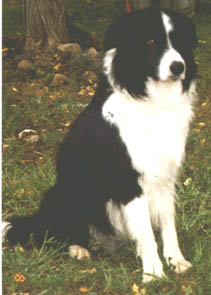 I never met Al, but I feel I know him. I don't know when he was born, but I know he had been an F.B.I. agent, had been married, raised three sons and a daughter, possibly got divorced, and retired from the F.B.I. The rest of his life is a little vague to me, until he was smitten with the Border Collie mystique. Many of the rest of us have likewise caught this bug, but Al had it bad. It consumed him.
He first made his acquaintence with the breed while in Nevada one year and became intrigued, learning that it came from the British Isles. However, his true affliction seems to have begun sometime in 1988. Did he attend a sheepdog trial in his native New York that summer and see the dogs work? How many of us were snared in just this way? We'll never know what really happened, but whatever the case, Al must have decided that year that he was going to get himself a Border Collie, and not just any Border Collie, but the perfect Border Collie. He began researching the breed, writing letters to some of the top handlers and breeders in the United States, and travelling to see their kennels.
If he hoped to find his dog in the United States, he was very disappointed. Writing about two years later he said, "Without exception the dogs were all housed in a barn, tied to a tether about four feet long and only freed when herding the sheep or sometimes for some exercise. The adult dogs obviously had little socialization with people or the outside world. They invariably showed no signs of friendliness, but to the contrary seemed afraid of human contact and indeed on many occasions would bark and snap as one approached their cubicle."
Al then remembered that the dog he had met in Nevada had been imported from England. He contacted the International Sheep Dog Society (ISDS) in Britain and was put in touch with the leading handlers and breeders in the UK. Again, he wrote letters, and finally went over to Britain with the intent of buying a Border Collie pup from a top breeder of ISDS-registered working dogs. Once again, he was discouraged. The herding dogs he saw in Britain were kept in similar conditions to those in the United States; and he saw smooth-coated dogs, possibly for the first time, which did not "conform" to his idea of what a Border Collie should look like. He came to the conclusion that breeders of herding dogs were breeding for "herding instinct with no regard for temperament [or] conformation."
Despite this setback, Al simply felt that he had just not been approaching the purchase of a puppy the right way. Back in London, he called the Kennel Club (KC) and obtained a list of Border Collie breeders from them. He found these breeders to be cut from a different cloth than the ones that he had recently visited. Their dogs "were housed in large kennels with spacious runs and allowed to run free virtually all through the day. In addition, they were frequently taken to large park areas to romp and socialize with other dogs and meet people." He was very taken with the beautiful looks of the show dogs, their friendly demeaner, and, despite the fact that he now despised herding dog breeders, he was still pleased to find that their pedigrees went back several generations to herding champions. This is important to note: the Border Collie mystique, by definition, includes a history in herding.
Back in the United States, Al wrote to many of the breeders on his Kennel Club list, and evenutally bought two puppies in 1989, a dog and a bitch, from two of the leading KC kennels in the UK. He felt he was getting the perfect blend with these puppies, the dog coming from champion show lines, the bitch from champion obedience lines. They would have the good looks and sound body conformation he required, with the added benefit of the herding lines in their ancestry. He was content. He named the puppies Bonnie and Clyde as a whimsical tribute to his former career.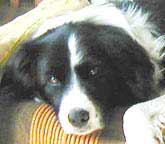 In 1990 he bred his perfect Border Collies and the bitch produced seven puppies. Imagine Al's disappointment when he had difficulty selling his perfect pups. For a start, he could not register them. In 1990 the AKC had yet to recognize the breed, so they couldn't be registered with AKC. The dog and bitch were only registered with the Kennel Club, not with ISDS, so none of the three American Border Collie registries would register the puppies. Al could only sell them as non-registered pets. We don't know what price he was asking for them, but there obviously wasn't much of a market for non-registered puppies of a breed that had yet to gain the popularity they have today.
We know that Al sold at least two of the puppies, a male and a female, for letters from their owners appear in his records. The owners were for the most part very pleased with their pups but also complained that they were too aggressive in their protection of their environment. Al had become an "expert" in Border Collie behavior by then, and advised that "after about 13 months the aggressive characteristic would suddenly disappear." He also pronounced that the pups, because they were "strong, aggressive, and with a keen eye and concentration" would "be judged as having great potential as a herding dog." The mystique would just not leave him.
We don't know what became of two other pups, both males, from the litter, but Al was forced to keep the remaining three, all females, or at least keep two and give the third to one of his grown sons. We do know that he remained devoted to his dogs and maintained the mystique for the rest of his life. In 1994 when he temporarily went into the hospital, his children tried to give the dogs to Border Collie rescue, and, rather than losing his dogs, Al checked himself out of the hospital.
Tragically, Al died at home in 1999, leaving the remaining dogs, his imported male, and three of the daughters, to spend three days with the body until it was discovered, four days in a shelter, and finally to be turned over to Border Collie rescue, where they were each placed in good but separate homes. He might not approve of the homes they went to. His imported male, then ten years old, went to a small working sheep farm. One of the daughters also went to a small farm. Another went to a pet home, and the third, the one that had belonged to one of his sons, was returned to that son when he was able to take her. Since Al was disenchanted with working farms, he may not have chosen that life for two of his dogs. The pet home might have been approved of.
As to the imported male, his temperament has not improved with age. He remains protective of his environment, of his own body, and of whatever he perceives to be his. He has mellowed slightly in his "reclining years" in that he is able to accept affection from his new owners. He has difficulty relating to other dogs, and when confronted by strangers across a barrier like a fence, he barks, growls, and has been known to even bite. Still, his no-longer-new owners are hoping he makes it to his fifteenth birthday in February 2004.
POSTSCRIPT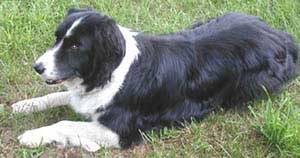 Clyde sadly did not make it to his 15th birthday as hoped.
He died on January 6, 2004, at 14 years 11 months, of complications due to kidney failure.
He had become a loved member of our family, and is truely missed.
---

RETURN TO THE WOOLGATHER FARM HOME PAGE
---
THE OTHER WEB PAGES WE MAINTAIN


---
These web pages are copyright ©2013 and maintained by webmeistress Carole Presberg
with technical help from webwizard David Presberg
ALL RIGHTS RESERVED
If you are interested in using ANY material on this website, you MUST first ask for permission.
You may email us at carole@woolgather.org.
---
Last modified: July 9, 2013 carole@woolgather.org