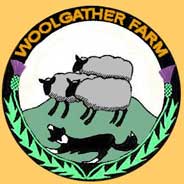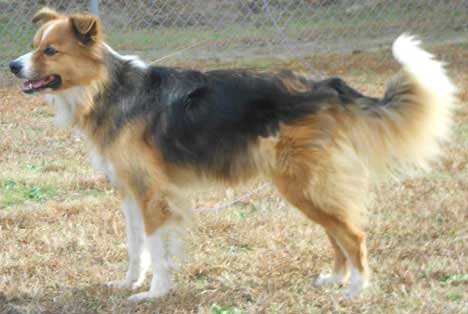 b. November 21, 2003
---
JACK'S STORY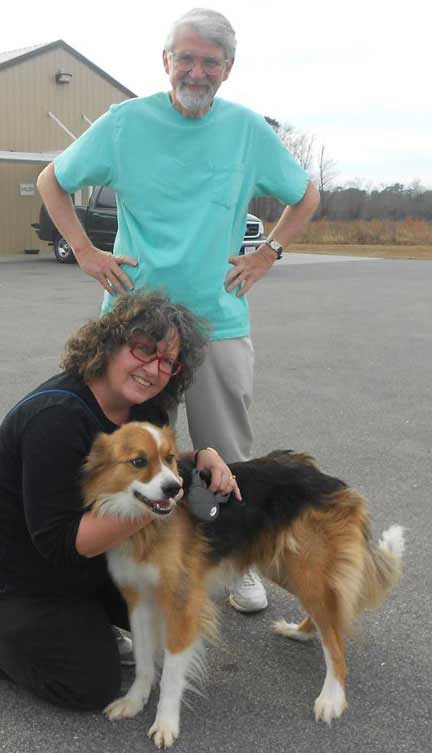 We got Jack from the Sampson County Animal Shelter in North Carolina. I first saw him on Facebook, where they said he had already had one reprieve, and was going to be put down on the following Monday. It was Saturday. I had been planning to get a fourth dog, but I wanted a younger, tricolored female, because my three were 10- 11- and 12-years old. But nothing had come along and then I saw this 9-year-old saddle-sable male about to die. I had always wanted a saddle-patterned dog because of my interest in color genetics. I made the decision on the spur of the moment. I messaged the shelter and said I would take him.
Sheila Boneham, a Facebook friend, fellow rescue person, and fellow writer, lives in Wilmington, NC, not far from the shelter, and she and her husband Roger, agreed to pick up Jack for me and foster him until we could arrange transport. I posted on Facebook that I needed such a transport, and I was amazed at how quickly I got responses, and by Tuesday we had arranged a transport for Thursday with a young man who was stationed in NC, getting out of the army, and returning to NH with a moving van. Unfortunately, it turned out that a friend was helping him and would be a passenger, and Jack would have to ride in a crate in the back. Furthermore, he was going north on Rte. 91, leaving NC mid-afternoon, and would not be arriving in Hartford CT, or Springfield MA (the closest he could get to us) until the middle of the night sometime. I found someone who was willing to meet the van in Hartford in the wee hours of the morning and meet me the next day in Sturbridge MA, but by that time, all of us were feeling uncomfortable with this arrangement.
I decided to try Pilots N Paws, an organization that has volunteer pilots of small planes who fly rescue or needy pets for no charge. I posted on their bulletin board, and in no time flat I had three pilots who said they could each do a leg of the journey. This was set up for Saturday. On Saturday the weather was gorgeous and clear, the three fantastic pilots, David Harlow, Mark Mattie, and Margery Gans, were the epitome of professional, and the journey went off without a hitch. On Saturday evening we met Margery and her co-pilot Lee at Nashua Airport, and Jack was ours.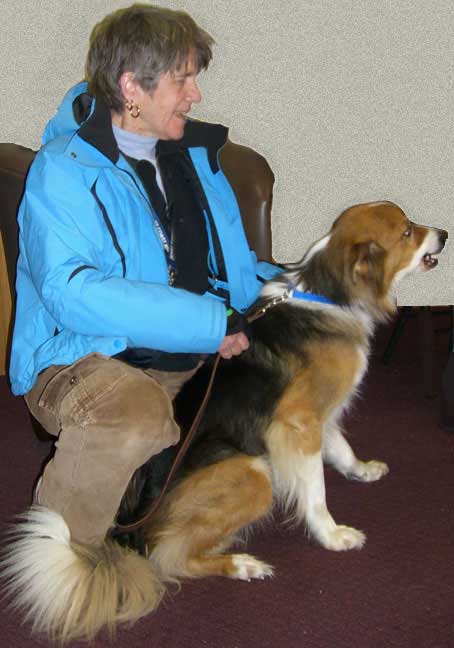 Left, Sheila and Roger Boneham with Jack in the shelter parking lot.

Right, Jack with Margery Gans

Below, Jack with David Harlow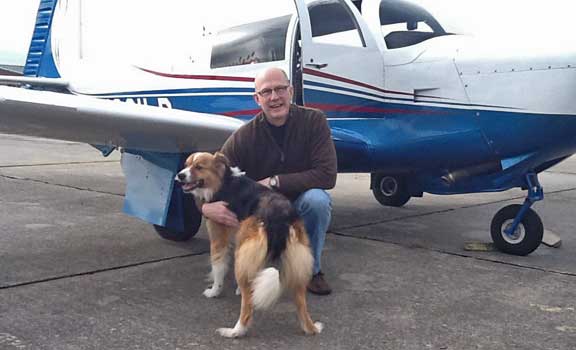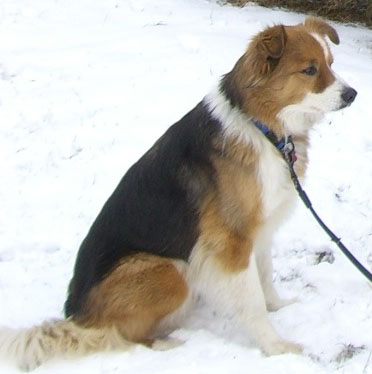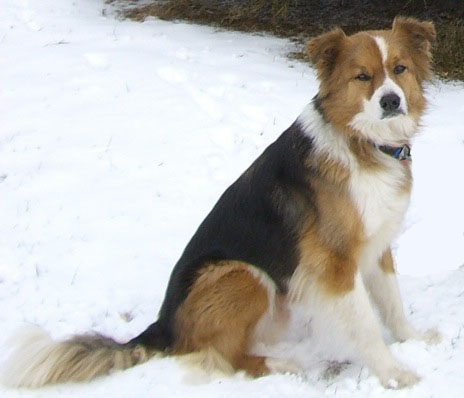 Photos of Jack taken in February 2013. Given the length of Jack's muzzle, the broadness of his head, his size, and his non-Border Collie behavior, we now believe that Jack may be an English Shepherd rather than a Border Collie. If anyone from North Carolina happens to recognize him and knows something about him (his original name was "Little Bear") please get in touch with us. We'd love to know something more about his background. He's a wonderful dog, by the way.
---


RETURN TO THE WOOLGATHER FARM HOME PAGE
---
THE OTHER WEB PAGES WE MAINTAIN


---
These web pages are copyright ©2013 and maintained by webmeistress Carole Presberg
with technical help from webwizard David Presberg
ALL RIGHTS RESERVED
If you are interested in using ANY material on this website, you MUST first ask for permission.
You may email us at carole@woolgather.org.
---
Last modified: July 9, 2013 carole@woolgather.org