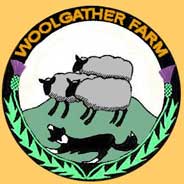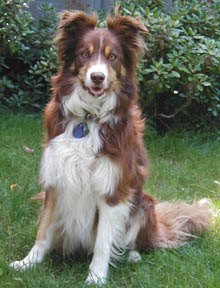 FDX CGC
ABC 49811
1994-2008
All among the wool boys all among the wool
Keep your blades full boys keep your blades full
I can do a respectable tally myself whenever I like to try
And they know me round the backblocks as Flash Jack from Gundagai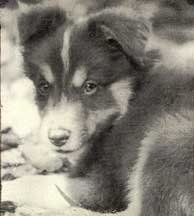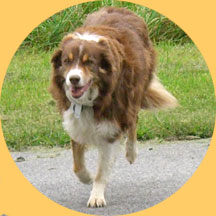 Flash, like Bess, was bred by Francis Raley of Crawford, Texas. They were not related to each other, but both came from imported Welsh working lines. A year and a half apart (Flash was born in 1994, and Bess is the elder of the two), and never having been at Raley's at the same time, they often acted as if they were littermates and were devoted to one another. Flash was trained to work the same time Bess was, but was never much of a working dog. He was always much too interested in just hanging with his humans or in being told he was doing the right thing. Flash earned his Canine Good Citizen (CGC) award and his Flyball Dog Excellent (FDX) titles, but also got started in flyball too late to really be speedy enough and anyway, speed was not ever his strong suit; and his interest in sports was similar to his interest in herding. Flash had an excellent temperament, was very laid back, very outgoing, and very confident. He had the demeanor of a true dominant dog and no one really ever challanged him until he became old and ill in the late spring of 2008. Flash died on October 1, 2008 of liver failure. He was 14 years and 3 months old. The photos are in ramdom order.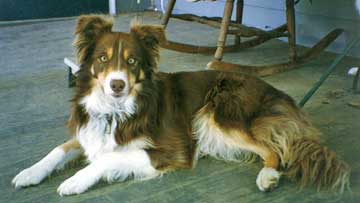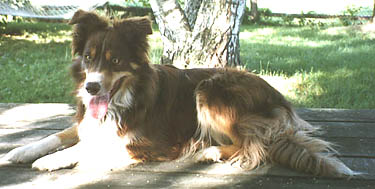 Above, left, is Flash's only littermate, Rex. He was placed with Border Collie Rescue, Texas, because he "wouldn't work".
He looks a lot like Flash, with more tan and more white, including a handsome full white collar. But he also looks more timid and anxious.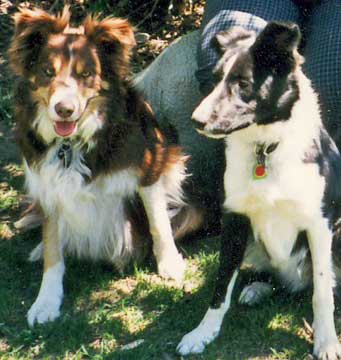 Above left, Flash
with Westwood Fenn.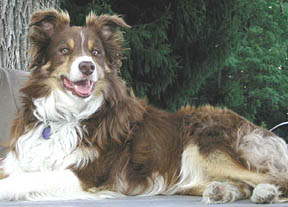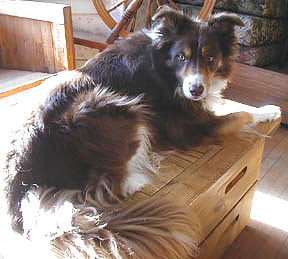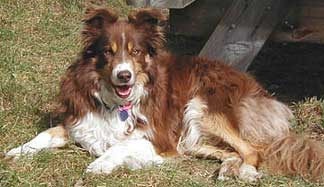 The photos below were taken of Flash in May 2008 at the NEBCR Reunion at the farm of Kathy and Craig Chittenden in New York State.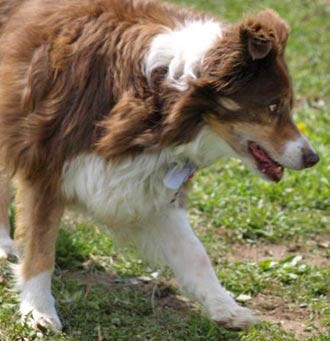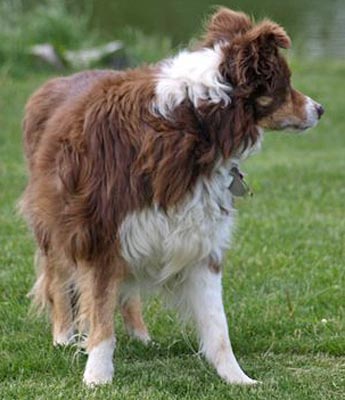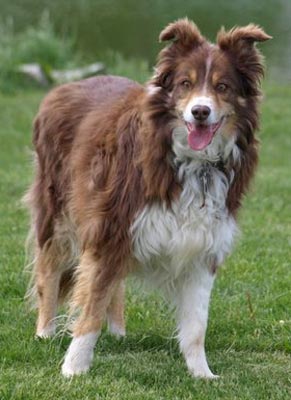 ---

RETURN TO THE WOOLGATHER FARM HOME PAGE
---
THE OTHER WEB PAGES WE MAINTAIN


---
These web pages are copyright ©2013 and maintained by webmeistress Carole Presberg
with technical help from webwizard David Presberg
ALL RIGHTS RESERVED
If you are interested in using ANY material on this website, you MUST first ask for permission.
You may email us at carole@woogather.org.
---
Last modified: July 9, 2013 carole@woogather.org