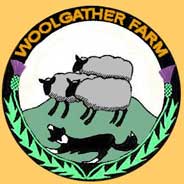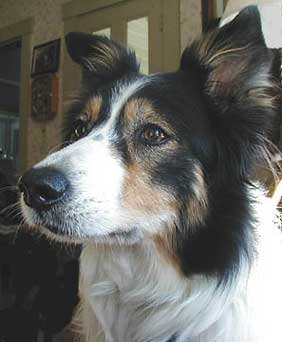 ABC 34844
January 27, 1993-November 4, 2008
Bonnie Bessie Logan, she's handsome, young, and fair,
Aye! the very wind that blows lingers in her hair.
She's lithesome, long, and lovely as she links* o'er the lea,
But bonnie Bessie Logan is ower young for me.

Bonnie Bessie Logan, the lads are at the stile,
And halfway up the loanin'** tae gain her winnin' smile.
I fain wad be amang them, but och! that cannae be,
For bonnie Bessie Logan is ower young for me.

(Bonnie Bessie Logan, a traditional song, words by Scottish poet Alexander Anderson (1845-1909),
sung by Scottish singer, Jean Redpath, from Jean Redpath Sings with kind permission)

---
(*To link: a Scottish word that means to walk smartly, to trip.)
(**Loaning: an open space between cultivated fields through which cattle are driven, and where the cows are sometimes milked; also, a lane.)


Left and above, Bess' sire,
Francis Raley's Imported Moss (ABC 24804)
Below, left and right, Bess' dam, Francis Raley's Imported Bess (ABC 32104)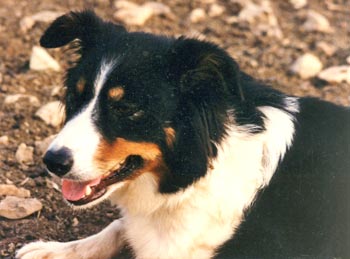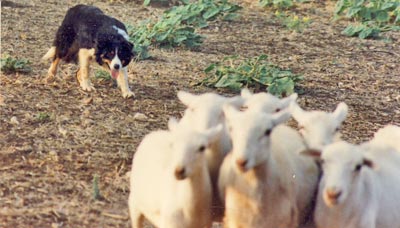 ---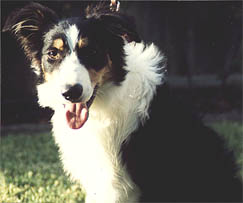 Left, Bess at 6 months old and right, Bess at about 3 years old.

Bess was bred by Francis Raley of Crawford, Texas, and was born in 1993. She came from imported Welsh working lines and she was my only real working dog after Willy, Jute, and Moss passed away. She was also my last connection to my original dogs, for she knew them all, coming to us about 6 months before Willy died. She could herd both sheep and poultry, and she would have herded the llamas if they let her. She was also very ball-crazy and was the only one of my dogs who had ever been able to consistantly catch a ball on the fly. She seemed to watch where it was going and instinctively know where she would cross with its trajectory. Bess earned her Canine Good Citizen (CGC) award and her Flyball Dog Excellent (FDX) title as well, and would have been a great flyball dog except that I started her at 5 years old and she could never manage the speed that was required for the sport. Bess also had an excellent temperament and was very sensitive and bidable. I always thought she was the perfect dog, for me, anyway, and originally thought I would breed her, but then I got involved with Border Collie rescue and decided that breeding and bringing more puppies into the world wasn't the best option. She was my favorite of all the dogs I've ever had. Bess died on November 4, 2008 of a matastasized malignant melanoma. She was 15 years 9 months old. The photos are in random order.


Bess was an enthusiastic poultry dog. We free-ranged our chickens and brought them in at night. Here is Bess rounding them up.
If you look closely at the picture on the left, you will just be able to see Bess rounding the corner of the chicken coop on the right side of the picture.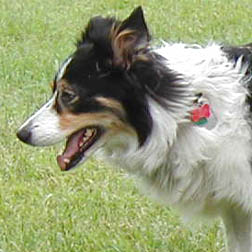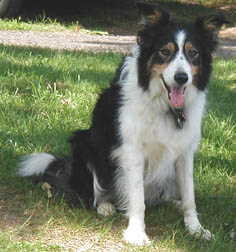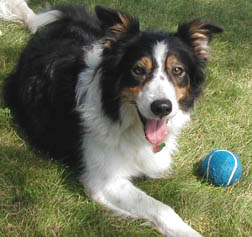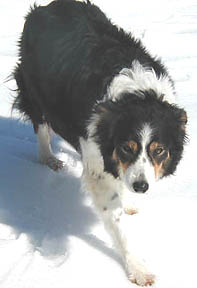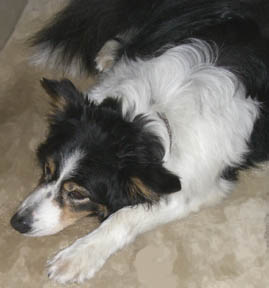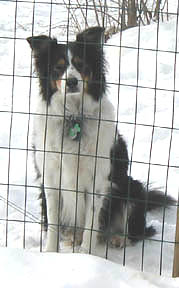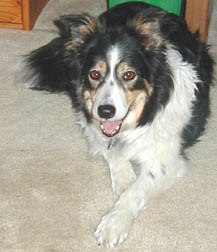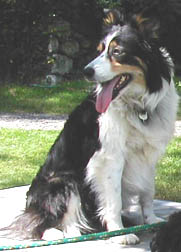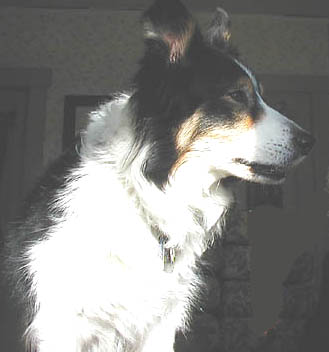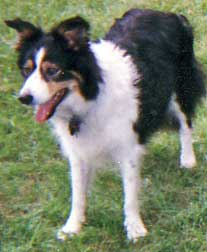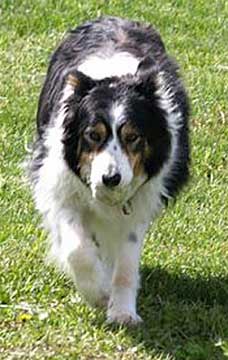 The above photo was taken at the 2008 NEBCR reunion.
Bess is 15 1/2 years old. Note the ball in her mouth.
---

RETURN TO THE WOOLGATHER FARM HOME PAGE
---
THE OTHER WEB PAGES WE MAINTAIN


---
These web pages are copyright ©2013 and maintained by webmeistress Carole Presberg
with technical help from webwizard David Presberg
ALL RIGHTS RESERVED
If you are interested in using ANY material on this website, you MUST first ask for permission.
You may email us at carole@woolgather.org.
---
Last modified: July 9, 2013 carole@woolgather.org