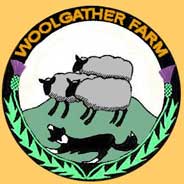 Our Willy (Highland's Willy Scott) herding ducks ca. 1980.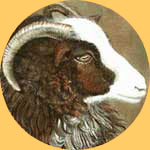 1 June 2014: Above, our three current dogs, Jack, Sage, and Kate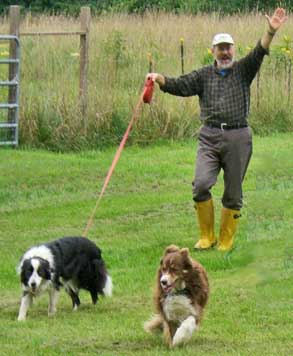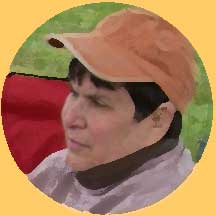 Woolgather Farm is currently located in the Merrimack Valley of Massachusetts where we had lived for 23 years before moving to New York State in 1992. From 1981-1992 we owned a much smaller version of our farm in Merrimac, Mass. When we moved to New York State we bought a 40-acre farm in Candor, south of Ithaca, NY. On Thanksgiving Day 1997 we moved to our new (smaller) farm in Tyngsboro, Mass., bringing with us our sheep, llamas and pony, our cats, and our Border Collies.
Carole is a fiber artist, writer, publisher and editor. David, a.k.a. "Pres", was a software engineer for many years and is currently working as a computer technician.
We have had Border Collies for over 35 years.


Left, Pres with Kate and Flash, and far right, Carole.

The thumbnails link to pages for each dog. (Photos of Willy, Jute and Moss by Tony Esposito of Bethany, Connecticut.)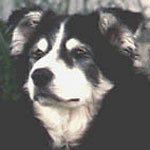 1978-1994
"Highland's Willy Scott"
NASDS 27702
bred by
Maurice MacGregor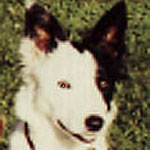 1980-1995
"Ettrick Linn"
bred by
Jack Knox




1982-1996
"Watermoon Jute"
NASDS 36938
bred by
Dennis Moonan



1984-1999
"Woolgather Moss"
NASDS 44344
bred by
Carole Presberg



"Corinlea Black Suede"
KC P1353801P01
1989-2004
bred by
Mrs. Karen Holliday (Dalgleish)
of Sheffield, England






FDX CGC
ABC 34844
1993-2008
bred by
Francis Raley
of Crawford, Texas






FDX CGC
ABC49811
1994-2008
bred by
Francis Raley
of Crawford, Texas







FDCh CGC ABC 120802
1997-2011
"Westwood Fenn"
bred by Suzanne West
of Oliver Springs, Tennessee,
originally owned by
Carole and David Presberg, subsequently owned by
Kathy and Craig Chittenden
of Sugarbush Farm in Stephentown, New York



CGC
ABC 183159
2000-2014
bred by
Christine and David Eisensmith
of Chafee, New York



2002-2017
bred by
Anja Dassen
of Belgium and the Netherlands




CGC
2002-2016
bred by
Chris Caswell
of Dyer Brook, Maine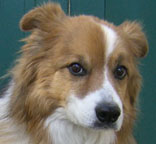 b. 11/21/03
who comes from
North Carolina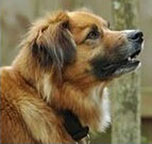 b. approx. 4/6/2011
who comes from
Texas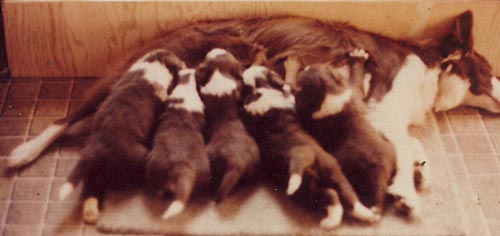 In 1984 we bred Jute to Willy and at the end of October of that year Jute whelped a litter of five pups. We kept Moss and sold the others. They are all sadly gone now.



"Woolgather Jess"
NASDS44345



"Woolgather Maize"
NASDS44346



"Woolgather Wizard"
NASDS44348



"Woolgather Ruby"
NASDS44347



"Woolgather Moss"
NASDS 44344
We don't currently breed (been there, done that), and all our dogs are neutered.
Please don't call us about buying puppies, because we don't have any
and we don't keep track of reputable breeders.
Instead of buying a puppy, please consider adopting a grown dog from rescue.
---
Since 1991, we have been involved with Border Collie rescue. I (Carole) am the founder of the North American Border Collie Rescue Network (NABCRN) and one of the founders of New England Border Collie Rescue (NEBCR). In 2006 I retired, as president, intake coordinator, website manager, and a foster home, from NEBCR. My husband and dogs were happy to have me to themselves again, however, I missed it, so in 2009 I resumed fostering for NEBCR.
---

PRINCE
ca.1980-2011
---
MEET OUR NEW PONIES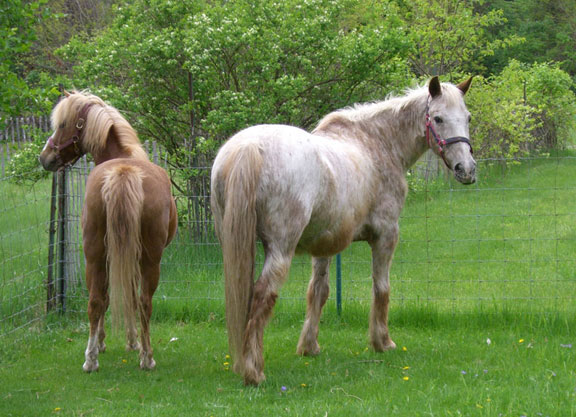 Magic and Sweetie were adopted in mid-May 2015 from the MSPCA Nevins Farm.
Magic is a chestnut gelding Shetland pony about 15 years old and Sweetie is an roan Appaloosa mare about 18 or 19 years old.
They came into the MSPCA large animal shelter together and we decided it was unfair to separate them since they had been together for many years, so we adopted them both.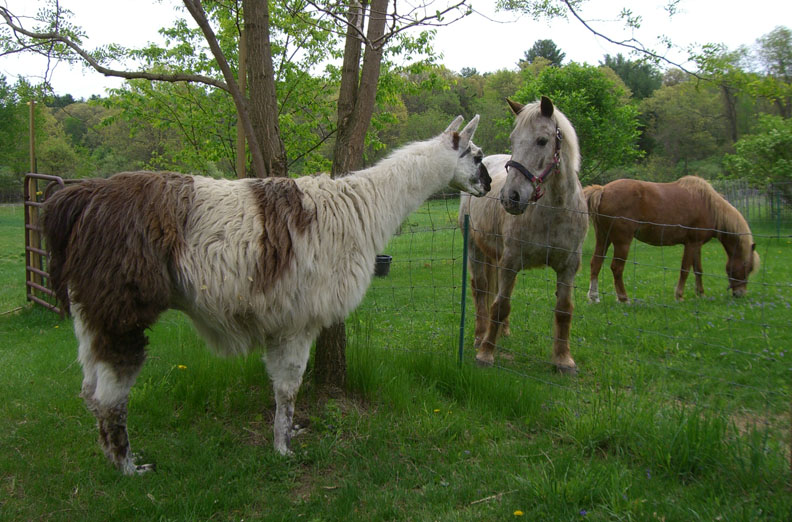 Above, Ranger the llama meets the ponies for the first time.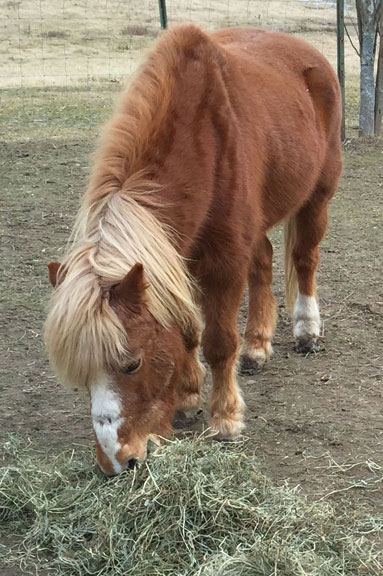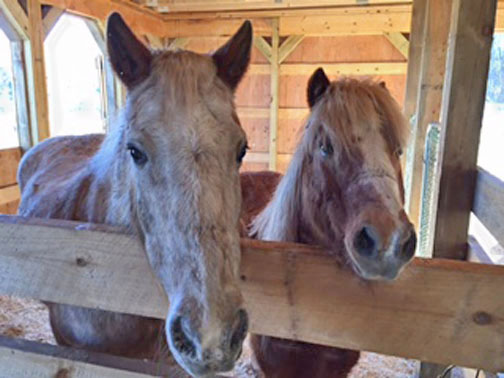 Sweetie and Magic in their new stall.
---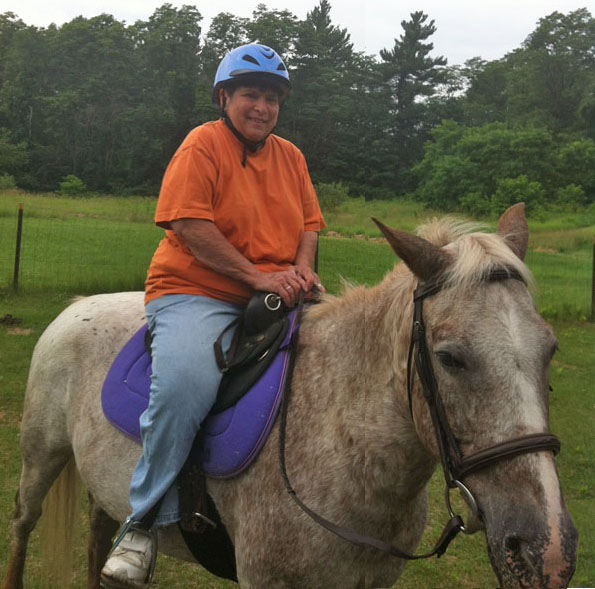 Me on Sweetie, July 9, 2015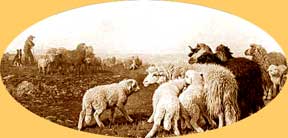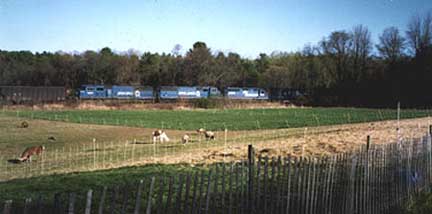 A freight line runs behind our property.
We actually like having the train in our backyard,
as it runs infrequently, goes slowly and adds some interest to the day.
As you can see, it doesn't disturb the animals.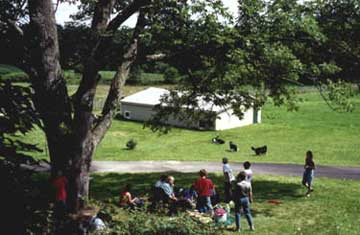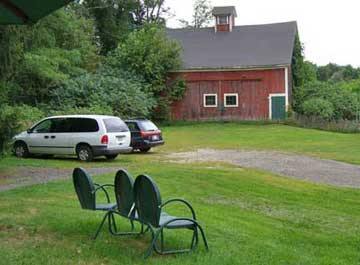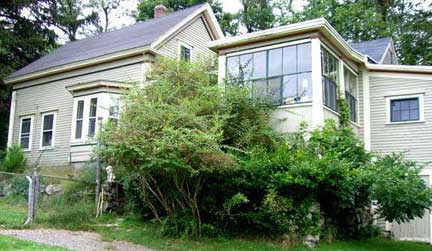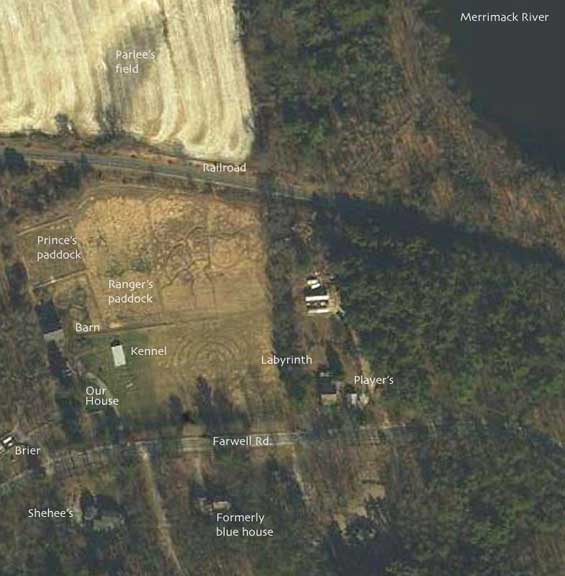 ---



We raised sheep for their wool since 1981.
Our sheep were mostly colored Border Leicester crosses and a few Jacob's sheep.
Currently we are no longer in the sheep business,
and the last old ewe, Doris, a Jacob's, who appears at the front of the photo above, died on June 19, 2006.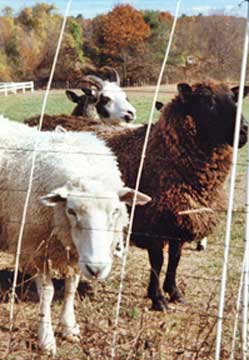 Our fleece was sold to handspinners
through our wool business,



or used by Carole for spinning, weaving and felting.
Carole is a fiber artist who makes small bags of wool, felt, and leather
Her bags may be seen on the Thistle Woolworks web pages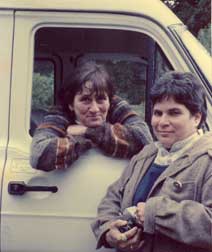 Above, Eva Lambert and Carole Presberg
with their tour van in Scotland ca. 1986.

For ten years, from 1983 to 1992,
Carole ran the Sheep to Shawl Tour of Scotland, a sheep and wool tour,
with Eva Lambert, who lives on the Isle of Skye in Scotland.
Eva now runs
Shilasdair Yarns.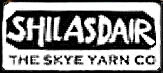 ---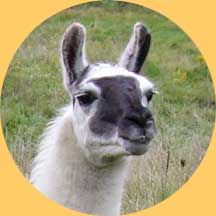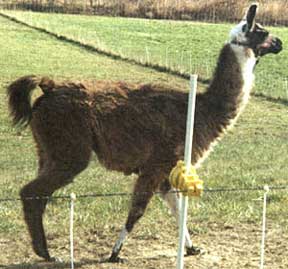 In the summer of '96 we added two llamas (Ranger, far left, and Hennessey) to our flock, also for their wool. For those of you who spin--their wool is absolutely beautiful, and also yields soft guard hair which feels like human hair and will be good for making soft cordage. Although we had been told that llamas work best as flock guardians if they are by themselves rather than in pairs, Ranger and Hennessey really have protected our sheep. We've seen them do it. They worked as a team. One day a friend's dog got into our pasture. Hennessey drove the sheep to one corner, and Ranger went after the dog. Sadly, Hennessey died in 2003. He was only 8-years-old. Ranger lived a long life, dying of old age at 21-years-old in 2016.
---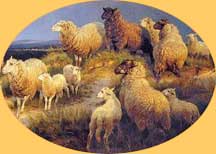 Sheep grazing on the dunes by Richard Ansdell

VISIT OUR FARM IN MERRIMAC, MASSACHUSETTS




VISIT OUR FARM IN NEW YORK STATE
---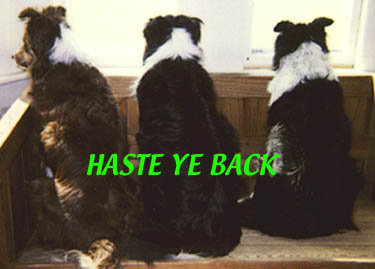 ---
THE OTHER WEB PAGES WE MAINTAIN


---
These web pages are copyright ©2016 and maintained by webmeistress Carole Presberg
with technical help from webwizard David Presberg
ALL RIGHTS RESERVED
If you are interested in using ANY material on this website, you MUST first ask for permission.
You may email us at carole@woolgather.org
---
Last modified: April 10, 2017 carole@woolgather.org